My name is Jim Mathies, I currently work as a senior software engineering manager @ Mozilla. I've worked remotely from Destin, a small beach side town in the Florida Panhandle since 2002.
I'm happily married to my wife Lena, the pretty lady pictured above. She grew up in Europe (Ukraine) and immigrated to the U.S. in 2007. We've been together since 2018. Lena's a former high school math teacher turned lifestyle Instagram blogger, and currently boasts of having over 1.7 million followers!
We like to travel together as much as we can – Cuba, San Francisco, Miami, New York, Atlanta, Vancouver, and Berlin are just a few of the locations we've visited since getting hitched. One of our favorite places to visit is New Orleans, which is just a short trip down the road from home. Two years ago we spent a whole month working from an AirBNB there during Mardi Gras, which was amazing!
I have two wonderful step kids through Lena – my son Gary who's currently studying aerospace engineering at Urbana-Champaign, and our wonderful daughter Maria – real-estate agent, super host, and successful mom of two. Maria is married to my son-in-law Glib, a successful real-estate developer in Pensacola.
Last but not least, Id like to call out my big sis Laura (the brains of the family) who has a PhD in Genetic Engineering from Stanford University, and spends her days reprogramming mother nature. (An interest in software programming seems to run in the family!)
I love to cook! Cooking is a wonderful mixture of chemistry and creativity which I enjoy exploring. I also have a passion for modern interior design – I purchased our current house in 2015, scraped it out completely and remodeled using a minimalist modern design and a mid-century flare in the decor. This project was one of the most enjoyable engineering projects I've ever tackled, it required a unique mixture of research skills, engineering, and creativity.
I also love photography. I find myself pulling my phone out all the time looking for opportune shots. I hate complex cameras though, too much effort. Smart phones have really changed the landscape by giving amateur photographers like myself a tool we can work with. You can do amazing things if you have a good phone and an eye for a good shot!
I grew up along the Colorado Rockies in Denver Colorado. I spent my younger years plugging through snow drifts and exploring endless open fields. I do miss the snow covered landscape around Christmas time, but I really don't miss the cold – I prefer sun, sand, and warm weather. After high school I attended Florida State University to study Physics, but decided to pursue a career in computer science instead.
In the 90's I spent six years living in San Francisco enjoying the energy and excitement of the dot com bubble! Dinner parties, dance clubs and Burning Man! We even managed to build a few neat things and learn a lot. So much fun!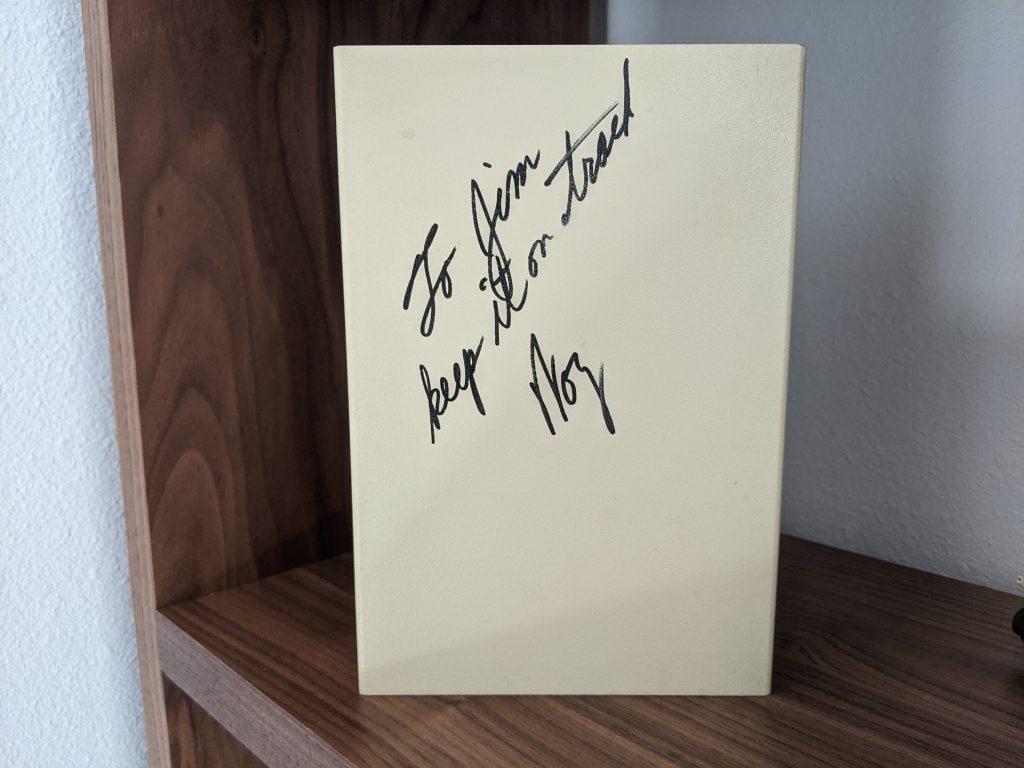 One last quirky note – on my office shelf I have an Apple ][ hard drive cover signed by Steve Wozniak. In high school programming and interfacing the Apple ][ was my passion, and in 1985 The Woz visited Denver for a symposium at the Colorado School of Mines. Some friend and I went, and after the presentations, had a chance to meet Steve for questions and autographs. The signature reads "To Jim, keep it on track! Woz". I feel I've succeeded on that task so.. thanks for the advice Steve!